Welcome to Daniel Hantula Memorial Fund
(formerly Springfield Hockey League)
Welcome to Daniel Hantula Memorial Fund
(formerly Springfield Hockey League)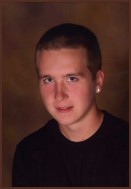 DANIEL PATRICK HANTULA
2/12/92 – 7/31/2010
Loved Forever, Forever Young
Daniel loved hockey – it was his passion and his identity. He first told his parents that he wanted to play hockey when he was three years old, after one session of ice skating lessons. His parents, who did not and still do not ice skate, assumed this would be a passing fancy. Daniel persisted and his parents finally relented by signing him up for THL at Springfield Rink when he was 6 years old. Daniel was thrilled! He played in THL until he was 10years old. He played on the Kings, Blues, and Penguins in Bronze. His first coach, John Davies, taught him to play defense and he stayed there for the majority of his ice hockey career. All three years, his team won the THL championship. He also played a year in the Silver Division. Daniel was then fortunate enough to be "picked up" by the Haverford Hawks mid-season where he went on to play for 7 years. Daniel also played ice hockey for Monsignor Bonner. As a freshman, he anchored an undefeated season on junior varsity. He was very excited about his sophomore year at Bonner—he had made the varsity and was a starting forward. Unfortunately, his skate was caught in a divot in the ice when he was checked hard in an intense Bonner-O'Hara rivalry game. He tore his ACL, MCL and meniscus. He was unable to play for the remainder of that year, which was devastating to him. Despite the pain, he worked hard during rehabilitation and came back strong his junior year. Daniel also played roller hockey from age 9 through high school. He played on 2 Pennsylvania state championship roller hockey teams; for Bonner in 2008 (1 week after completing his ACL rehabilitation) and for O'Hara in 2010.
Daniel was blessed with an innate sense of the game. He was passionate about the sport and it was not uncommon for him to suggest plays to his coaches. Daniel played with fearless intensity despite his size. Daniel was known to be effective against players much bigger and taller than he was. Daniel was tough! Daniel played with a fractured kneecap during a tournament in Helsinki, Finland and was named team MVP. As a hockey player of Finnish ancestry, he was thrilled to be in Finland and would not be sidelined by anything. Daniel loved his trip to Finland. His several opportunities to host Viikingit players cemented his commitment to the Haverford Hawks-Viikingit exchange program.
God took Daniel from us suddenly in a tragic, freak accident on July 31, 2010. We have established a foundation in his name with a mission of exposing as many individuals as possible to the joys of hockey and of supporting the Haverford Hawks-Finland Exchange program. The Hantula Family appreciates your support of this fund.